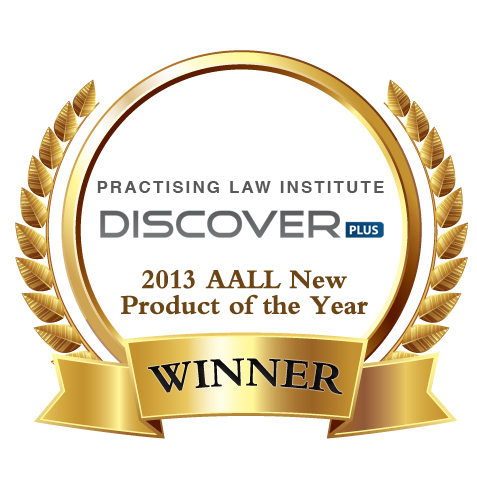 The American Association of Law Libraries (AALL), the nation's oldest organization for law librarians and related professionals, has awarded its 2013 New Product of the Year Award to PLI for our new eBook library Discover PLUS. AALL will present the award in Seattle during the conference next month.
The New Product of the Year Award honors new commercial information products that enhance or improve existing law library services or procedures, or innovative products that improve access to legal information, the legal research process, or procedures for technical processing of library materials.
Practising Law Institute's Discover PLUS is a comprehensive eBook library, offering customers electronic access to PLI's authoritative Treatises and Answer Books. In addition, Discover PLUS offers exclusive access to the organization's Course Handbooks, Program Transcripts, and Legal Forms derived from its acclaimed seminars and publications. In developing Discover PLUS, PLI worked closely with law librarians, attorneys, and law students in order to create an intuitive, user-friendly platform that reflects the desires of the users themselves. This product was created by legal researchers to meet the needs of legal researchers; rather than just digitizing our books, PLI strove to truly optimize its print content for an online environment.
"It is truly an honor to win this award," said Alexa Robertson, Director of Library Relations at PLI. "We had law librarians in mind as we developed our eBook library and worked with them every step of the way.  We're thrilled that Discover PLUS is a product AALL saw fit to recognize."
 For more information on Discover PLUS go to discover.pli.edu