Happy National Library Week!  
Unlimited Possibilities @ your library, Unlimited Possibilities @ PLI Discover PLUS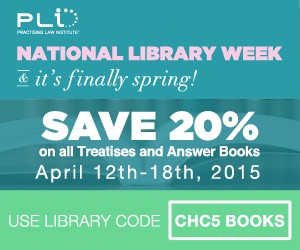 In celebration of National Library Week, Practising Law Institute is offering a 20% discount on all Treatises and Answer Books from April 12 – April 18.
The Library Relations team would also like to encourage you to access our online publications through a subscription to PLI Discover PLUS.  A subscription to PLUS gives you access our Course Handbooks, Treatises and Answer Books. You can also search for PLI Forms to provide legal templates for your day-to-day tasks, and transcripts to many of our PLI programs and seminars.

From the Library Relations team at PLI, enjoy the
recognition you and your library deserve!

This entry was posted in