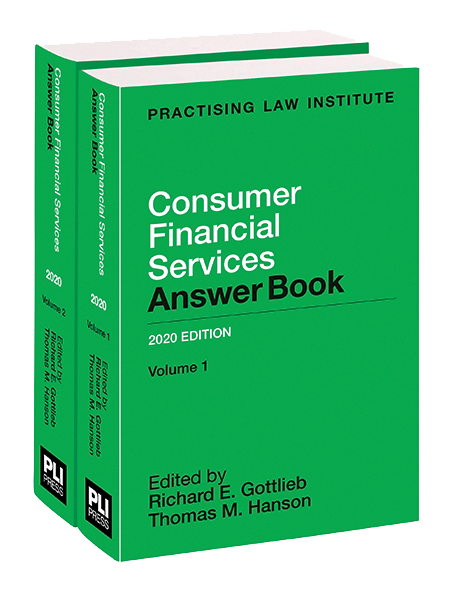 Consumer Financial Services Answer Book (2020 Edition), written in a clear and accessible Q&A format, provides financial service lawyers and compliance professionals with the practical guidance needed to fully understand and comply with the various laws governing consumer financial services.
This comprehensive guide includes contributions from the well-regarded consumer financial services teams at three law firms—Manatt, Phelps & Phillips, LLP; McGlinchey Stafford; and Dykema Gosset PLLC—as well as from other prominent practitioners.
Highlights from the 2020 edition:
Comprehensive coverage of key governing statutes and regulations, including the all-important Title X of the Dodd-Frank Wall Street Reform and Consumer Protection Act, as well as the core federal laws affecting consumer lending, such as the Truth in Lending Act, the Fair Credit Reporting Act, the Equal Credit Opportunity Act, the Fair Credit Billing Act, and the Fair Debt Collection Practices Act.
A chapter on CFPB enforcement answers questions about the Bureau of Consumer Financial Protection, explaining the structure of the Office of Enforcement, the scope of its authority, the procedures it follows in enforcement investigations and action, and the nature of its enforcement activity to date.
Detailed discussions of the Electronic Signatures in Global and National Commerce Act (ESIGN), the Telephone Consumer Protection Act, and the laws governing unfair and deceptive acts and practices.
Chapters dedicated to a variety of specific consumer finance industries, including mortgage lending and servicing, automotive finance, the credit card industry, military lending and loan relief, and short-term lending.
Order your print copy today. 

PLI PLUS subscribers can access this title through their subscription. 

This entry was posted in