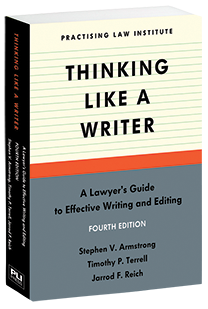 PLI Press is proud to announce the publication of Thinking Like a Writer: A Lawyer's Guide to Effective Writing and Editing (Fourth Edition).
A longtime favorite among PLI customers, this book provides practical advice to help lawyers strengthen their writing skills by "thinking like a writer" as effectively as they already think like a lawyer. It highlights guiding principles for writing clearly about complicated material and establishing credibility with demanding readers, and then turns those principles into specific techniques that apply to many types of documents and audiences.
Part I introduces the approach and principles that can guide lawyers in "thinking like a writer."
Part II applies the guiding principles to a document's organization.
Part III applies guiding principles to specific types of legal writing: letters, memoranda, and emails; briefs; and judicial opinions.
Part IV applies the principles to the smaller scale of paragraphs and sentences.
Part V applies the principles to the editing process, for both self-editing and editing the work of others.
Throughout, chapters include before-and-after examples to demonstrate how writing and editing can be improved by following the advice offered in the book.

Order a print copy today.

PLI PLUS subscribers can access this title through their subscription.

This entry was posted in