PLI Press is pleased to announce the publication of a new treatise on professional skills: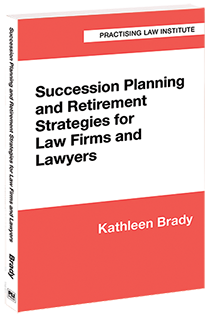 Succession Planning and Retirement Strategies for Law Firms and Lawyers showcases the perspectives of both law firm management and individual partners in order to mitigate the discomfort of retirement conversations and help develop effective transition plans that meet the needs of all stakeholders.
Written by a certified career/life management coach with more than three decades of experience working with the legal profession, this book is designed to help all participants address assumptions, thoughts, and emotions around aging and retirement to influence transition outcomes in a positive manner. It contains numerous tools and exercises to help guide discussions and planning.
Among the specific topics covered are:
Strategic plans designed to launch retirement discussions
Aligning talent management strategies with life cycle
Impact of compensation and culture on succession planning
Mindset of aging partners
Designing post-practice life
Tending to physical, mental and emotional well-being
Collaborating for better outcomes
Order a print copy today.

PLI PLUS subscribers can access this title through their subscription.

This entry was posted in