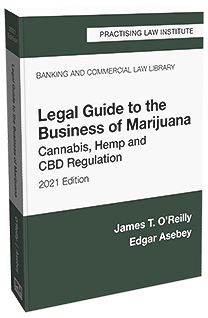 PLI Press is proud to announce the publication of the new edition of Legal Guide to the Business of Marijuana: Cannabis, Hemp and CBD Regulation (2021 Edition).
This is a unique resource for lawyers who represent clients in the fast-growing legal cannabis industry. For lawyers new to representing marijuana clients, the authors provide an understanding of the definitions of marijuana and other cannabis products, as well as a review of the policy and political issues that have led to the controversy and uncertainty of the current environment.
The book also offers critical guidance on a wide range of interrelated topics, including:
The complex and varying state regulation of medical and non-medical marijuana;
Federal law, enforcement, and preemption and their implications for employment, taxes, and banking;
Various aspects of establishing and managing a marijuana enterprise, including the growing, licensing, labeling, transporting, and distribution of marijuana and related products.
The new edition adds the latest on regulation of CBD products, the Final Rule for the Establishment of a Domestic Hemp Production Program, and the laws of the latest states to adopt some form of cannabis legalization—New Mexico, New York, South Dakota, and Virginia.

Order a print copy today.

PLI PLUS subscribers can access this title through their subscription.

This entry was posted in