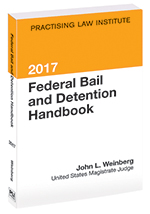 Federal Bail and Detention Handbook 2017, written by the Honorable John L. Weinberg, provides judges and lawyers alike with quick, on-point answers to all aspects of federal bail and detention law. The Handbook provides legal professionals with a comprehensive guide to the Bail Reform Act of 1984, including relevant statutory language, legislative history and appellate case law. It analyzes each step of the process, including:
Requirements at the initial appearance
Factors the court considers in determining whether bail should be granted
What conditions may properly be attached to a release on bail
Proper procedures to be taken when there is a failure to appear
How to appeal orders of release and detention
The Handbook's Table of Cases lists every federal appellate decision of significant precedential value that interprets or applies the Act.
Designed as a practical tool to be used both in court and the office, Federal Bail and Detention Handbook 2017 includes "Practice Pointers," designed by Judge Weinberg to provide defense counsel and Assistant U.S. Attorneys with strategic suggestions for dealing with the Act. In addition to the sample orders and motions included in the Handbook, the 2017 edition includes, in Appendix III, a comprehensive collection of the official, nationally recommended forms relating to release and detention.

This essential title is available on PLI PLUS, our online research database.  If you'd like to order a print copy, please email (to embed libraryrelations@pli.edu) or call (877-900-5291)

This entry was posted in